Paddling around in a water buggy was about as active as Ann Lueders and Jesse Csincsak got on their Jamaican honeymoon this month. Even then, Lueders – pregnant with the couple's first child – needed special gear.
"The funniest thing is, Ann is a small, and I tried to get her a small life jacket," Csincsak says. "And the dude looks at me, smiles, looks at the other guy and goes, 'Her boobs are too big, mon!' "
"I did squeeze into that life jacket," Lueders says with a laugh. "The guy's like, 'You got strong thigh muscles? It's quite a workout,' And we are like, 'Oh yeah, we got this.' We were probably out there for all of five minutes."
The Bachelor and Bachelorette alums, both 28, who tied the knot in Las Vegas on Aug. 28, were happy to finally have a chance to slow down. "We were psyched just to lay in bed and eat 10 meals a day if we wanted to," Csincsak says.
And enjoy Negril's famous sunsets from the Sandals Negril Beach Resort & Spa.
"You can just see a million colors," Csincsak says. "We sat there and we looked at each other and said, 'The Bachelor doesn't have anything on this!' We were on a fantasy date together. It was pretty amazing."
For Lueders, the most amusing part of the trip was when four counter girls at the airport recognized Csincsak. "Jesse had gone to the bathroom," she says, "and they pulled me aside and said, 'He looks familiar from somewhere.' I go, 'Really?' And they go, 'Oh my God! He's that guy from The Bachelor!' "
She adds: "I gave Jesse a hard time about that for a few days, like, only you would get recognized in Jamaica!"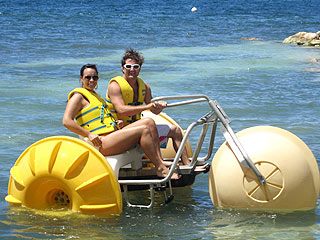 Courtesy Jesse Csincsak and Ann Lueders
Click to see the Full Story: